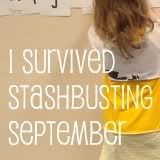 So, I decided to not buy any fabric/craft supplies in the month of September, going along with the Stashbusting September challenge. And...I did it! Well, almost. I did buy a 5-yard knit fabric bolt from Wal-Mart for $5 on the 28th. It was so cheap, and...and..it was cheap! I have a pattern for a knit dress that needs to be used, and I can also make shirts for the kids, skirts, etc. So, I'll use that fabric up!
Anyways, I am
so happy
I did that little challenge, because I used up a lot of fabric that I had just sitting around. I took pictures of almost nothing I made, since I was too busy sewing, but here is a list anyways. In September, I made:
-- a shirt dress for Cosette (using the Sienna dress pattern I used
here
)
-- a long-sleeve peasant dress for Coco
-- a zippered skirt for myself (using this
easy tutorial
with zippers, yay!)
-- matching mother/daughter yoga skirts (using this wonderful
tute
)
-- 2 gathered clutches (from
Noodlehead
)that I actually took pics of, because they came out cute and have functioning zippers!
-- and I made progress on the kiddos'
Owie Dolls
. I am using them as travel buddies for our big move to Japan and am making them sleeping bags, too. Eesh.
--Oh, and a cute crochet headband which I will never wear, so check
the pattern
out and tell me if you would wear it. It's in an butterscotch/cinnamon color like in the photo.
Sewing makes me so happy, and fabric makes me even happier! What does NOT make me happy right now is how long it has taken me to finish the several different dolls I am working on. I bought a Waldorf doll kit last September to make and give to my daughter for her 1st birthday. Well, she will be 2 in a month and that doll is not finished at all. Yikes! Let's see if I can finish it up soon, although I pretty much hate its guts right now.